Security companies and clients in Birmingham and Worcestershire, please be aware of these thieves - Cotswold Security Group
This firm - previously known as Cotswold Security> - just phoenix-ed into Cotswold Security Group - company house. They took tons of loans from the bank and robbed the HMRC, many sub contractors, including ourselves - and now they are trading as normal with the same team, office and previous contracts.
Cotswold Security Group are NOT an SIA approved contractor, so if you are an SIA approved contractor you are not supposed to use them.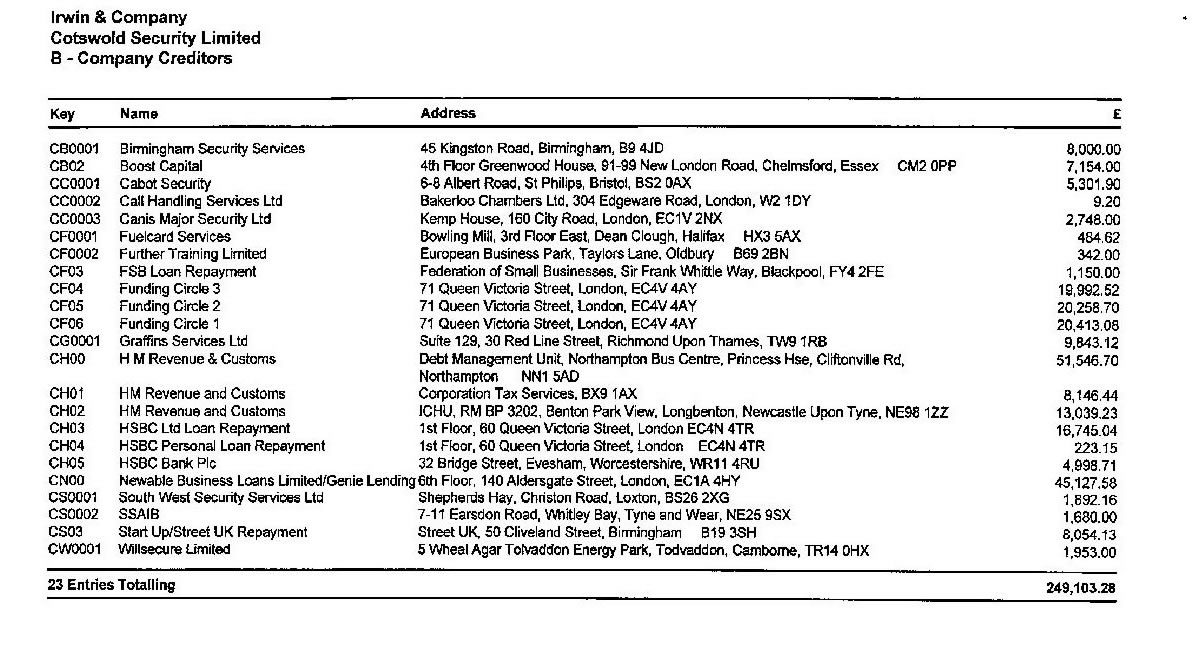 James Caine Lester , the manager who went for bankruptcy, this August, is still part of the company though he is showing as living with his parents, now. In fact, he also running another company but with different name,https://beta.companieshouse.gov.uk/company/10305282/officers.
The website for this business is securisoft.net. They are the UK partner of QR Patrol.
They sub contract from Wilson James, who, the last time we contacted them, said they have a good relationship with them.
All the asset of the current of Cotswold Security Group is the money stolen from sub contractors, banks and the HMRC - the reason James decided to go bankrupt.
As you see the scum bag has registered the girl he was using as decoy for the Cotswold Security Group, now she is also the director of this company. He did that after noticing we mentioned this in one of the reviews. SECURISOFT LTD
If you are security company, these are the last people to work with. They won't only pay, they will record you when you go their office and use every single trick to charge so you you won't be able to ask for your money.
If you are a current clients of them, you need to know they are no longer SIA approved Contractor. The SIA has just stripped then off ACS, recently.
You should also watch out the invoices sent by Theresa. These guys are thieves and they will try every single trick to con clients and sub contractors.
The old website still redirects to the new one and James is still involved and running the company. It's just not registered by his name.
These scam bags teamed up with another similar scam bags liquidators, Irwin Insolvency who took care of the liquidation scam. Irwin Insolvency actually changed the address of the old liquidated company to their own office address!
Recently they decided to remove the new Google map account reviews and revert back to the liquidated company, Cotswold Security previous account as they thought they will get rid of the negative reviews that simple.
These are the genuine reviews they are trying to hide
Faisal Abdallah
The worst security company we worked with but in case you don't mind one of their security guard turning up with a blanket to make sure they get a good night sleep, they might be right guys to secure your premises!
Nawaz Ahmed
There isn't anyone who actually knows these guys and possibly recommend them and I'm very certain the few positive reviews here are fake and submitted by one their few friends. Not even sure even these kind of people have friends!
Why i said this?
At the end of year 2017 they ended up owing good money as we never bothered them for payment for about one year.
When we contacted James and Theresa they said the could send us £500 a week till they clear all the invoices. So we told them they didn't need to do that and that they could pay us when they have enough money.
It turned out at exactly that time they registered the new company Cotswold Security Group and even ordered two brand company cars - the ones you see in their website.
After few months and when they squirreled all monies from Cotswold Security they called rogue liquidation company - Irwin Insolvency- to take care of the whole scam. Irwin Insolvency even changed the old company address to their office to confuse the guys from HMRC.
James, now, is showing as bankrupt and living with his parent but he still running the company though it's not registered by his name.
The one who is replying to reviews is actually aware of all this but pretends that Cotswold Security Group is a different company and she never heard of Cotswold Security:)
Imagine someone doing this and you trust him with looking after your home or business?
Micheal Wright
On appearances all looks good, but very amateurish. I telephoned to enquire for security staff for an event at our facility, the staff were very rude, poorly presented and appeared to have very minimal security knowledge. Thumbs down, I would look elsewhere.