Security companies and clients in Birmingham and Worcestershire, please be aware of these thieves - Cotswold Security Group
This firm - previously known as Cotswold Security - the same company just phoenix-ed into Cotswold Security Group - company house. As you could see they took tons of loans from the bank and robbed the HMRC, many sub contractors, including ourselves - and now they are trading as normal with the same team, office and previous contracts.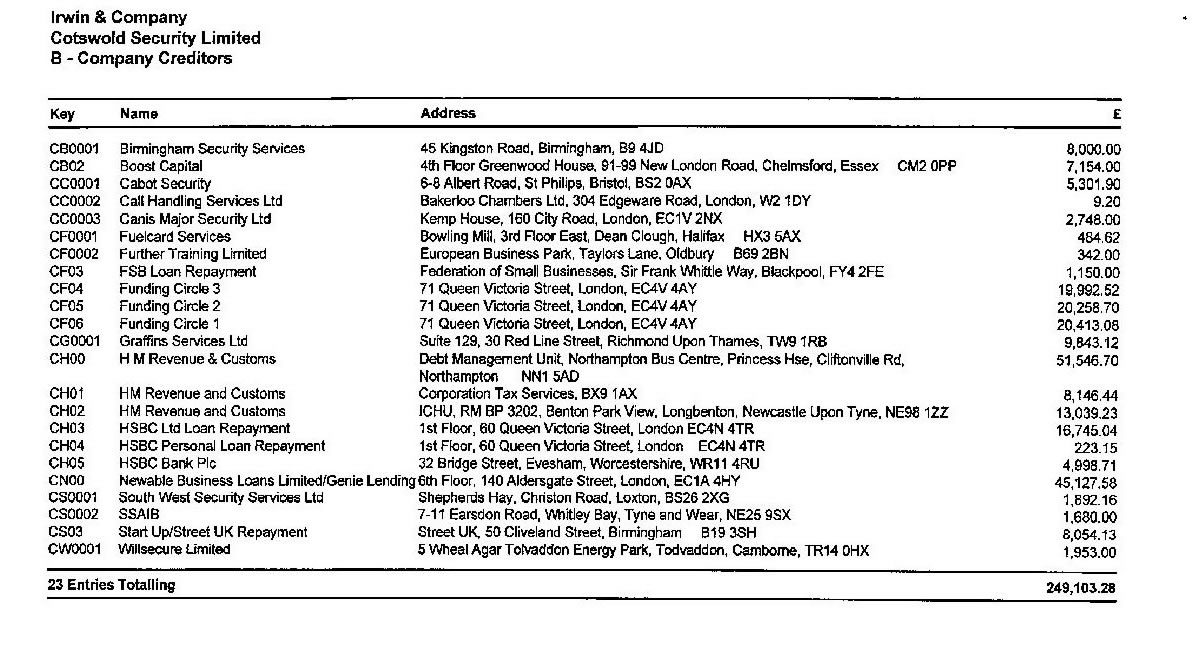 Cotswold Security Group are NOT an SIA approved contractor, so if you are an SIA approved contractor you are not supposed to use them.
James Caine Lester , the manager who went for bankruptcy, this August, is still part of the company though he is showing as living with his parents, now. In fact, he also running another company but with different name,https://beta.companieshouse.gov.uk/company/10305282/officers.
The website for this business is securisoft.net. They are the UK partner of QR Patrol.
They sub contract from Wilson James, who, the last time we contacted them, said they have a good relationship with them.
All the asset of the current of Cotswold Security Group is the money stolen from sub contractors, banks and the HMRC - the reason James decided to go bankrupt.
As you see the scum bag has registered the girl he was using as decoy for the Cotswold Security Group, now she is also the director of this company. He did that after noticing we mentioned this in one of the reviews. SECURISOFT LTD
If you are security company, these are the last people to work with. They won't only pay, they will record you when you go their office and use every single trick to charge so you you won't be able to ask for your money.
If you are a current clients of them, you need to know they are no longer SIA approved Contractor. The SIA has just stripped then off ACS, recently.
You should also watch out the invoices sent by Theresa. These guys are thieves and they will try every single trick to con clients and sub contractors.
The old website still redirects to the new one and James is still involved and running the company. It's just not registered by his name.
These scam bags teamed up with another similar scam bags liquidators, Irwin Insolvency who took care of the liquidation scam. Irwin Insolvency actually changed the address of the old liquidated company to their own office address!
Here the stable genius - who is supposed to be bankrupt and out of the business - is actually trying to review his new company - twice :) just few months ago

And here, the new director is actually stating that the current company was established in 2013, including the liquidated company - so for them it's just business as usual. The HMRC are nice guys - they will never find out !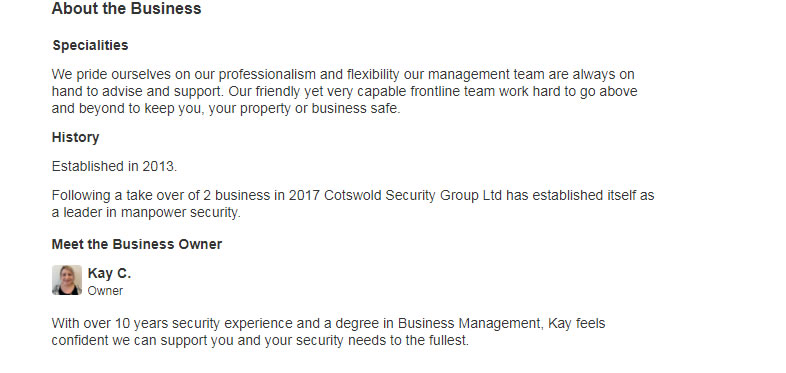 And I am sure they will edit or remove the Yelp page straightaway after reading this, so I have to leave a screen shot of the whole page here.