Security Company in Leamington Spa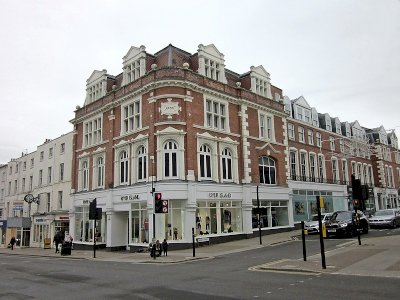 As one of the West Midlands' leading security providers, we provide reliable and professional security services to all businesses and industries in Leamington Spa. Over the last 20 years, we've secured many commercial sites and businesses in Leamington Spa and nearby areas in Warwickshire.
Security services in Leamington Spa your can trust & afford
Birmingham Security provide manned security services to a wide range of businesses in Leamington Spa and across the West Midlands, keeping our clients' valuables and premises safe. Our clients in Leamington Spa can count on our long standing experience and performance in manned security guarding. All our security services are developed and adapted into custom services for each of our clients.
A secure and welcoming workplace has been proven to build employees' confidence and trust, fueling productivity and preventing issues and incidents. Our reactive and well trained in conflict management security team help create a welcoming environment for your workplace and make your staff feel sale and perform at their best. We also carry out training based on each site's specific requirements.
All our security officers are Security Industry Authority (SIA) licensed; fully vetted for a min 5 years; well presented; and trained in first aid, customer service and conflict management. We employ only mature, reliable, responsible and proactive security guards - we can trust with working unsupervised.
With a dedicated area manager, responsive customer service and hand-on security team, you have the assurance of round-the-clock security that is effective and managed by reactive security professionals. We never sub contract from or to other security companies.
The majority of our clients are either recommendation or referral. Above all, it's the quality of our security officers we've used that have made us a trusted and preferred choice in Leamington Spa. Security officers are the face and backbone of our business and everyone - whether you need them for an ad-hoc cover or for months - is a full-time employee at Birmingham Security Services. With our thorough vetting and interviewing process, you won't find better qualified security officers in Leamington Spa than ours.
Why choose Birmingham Security?
Our security services in Leamington Spa
With over two decades in the security industry, we utilise our years of sector-based knowledge and expertise to provide our clients in Leamington Spa with effective security solutions. We work with businesses in Leamington Spa to ensure the safety of properties, assets and people. Whether you need manned guarding, construction site security, industrial site security, retail store detectives, lock and unlock services, crowd control, vacant property inspection or front of house services in Leamington Spa, Birmingham Security has got you covered.
We provide round-the-clock manned security services to construction sites in Leamington Spa: we provide a dedicated contact phone number for contractors and workers to get access to the site during non-working hours and weekends; print custom deterrent signs displaying the site contact number; and monitor our guards' location and activities to make sure site patrol routines are done on time.
We provide manned security services for vacant properties in Leamington Spa: our uniformed security guards provide a high visibility presence inside and around your property, deterring vandals, squatters and trespassers. We also provide mobile patrol, local and unlock and response services if you don't need round-the-clock manned security of your property.
We provide front of house services to hotels, hostels, construction sites, industrial sites, commercial warehouses, distribution centres, residential areas and business parks in Leamington Spa. Our trained security team safeguard your business premises and act as the first access point for entry, allowing only your employees and authorised visitors access to your premises.
We provide plain-clothed or uniformed store detectives to all types of retails business in Leamington Spa. Our store detectives are fully SIA licensed, vetted and have a good experience within the retail sector. Our loss prevention security team safeguard your stock and staff, and deliver a return on your investment.
Whether you need one store detective for a retail shop or small site, or you are looking to hire a reliable and proactive security team for a large site or distribution centre in Leamington Spa, we can provide you with cost-effective and scalable security solution that fits your business security requirements.
Whether it's a small factory or a large manufacturing site in Leamington Spa, we can provide you with a reliable security team to manage your site security. We also work with your team to ensure that your manufacturing site working environment is safe and compliant to Health & Safety regulations.
We help schools in Leamington Spa secure their institution's academic environment; provide support and assistance to their staff, students and visitors; and safeguard the reputation of their educational institution. Our security officers are trained in first aid, fire safety, conflict management and dealing with vulnerable people.
We provide manned security services to hospitals, health centres, GP surgeries, dental practices, care homes and walk-in centres in Leamington Spa. All our security officers are first aid trained, hold a valid SIA license and have a good experience with working with different types of patients.
At Birmingham Security, our manned security officer always take a professional and proactive approach in their duties. For sites that need round-the-clock manned security guarding, we offer a dedicated site contact number; custom printed deterrent signs displaying the site contact number; and guards' monitoring to make sure site patrol routines are done on time.
We provide key holding, lock and unlock and mobile patrol services to business premises in Leamington Spa. Being centrally located in Birmingham city centre, we are able to provide fast, efficient, flexible and professional mobile response, lock and unlock and key holding services to our clients anywhere in Leamington Spa.
Part of our security services, we offer a free risk assessment services to businesses in Leamington Spa and help them stay compliant and keep their employees & customers safe by reducing the chances of an accident occurring in their workplace. Risk assessment process is based on specific work activities and areas risk assessment - rather than off-the shelf templates.
If you are looking to hire a reliable security company in Leamington Spa or anywhere in Warwickshire to secure your business or home, call us today on 01217691566 or request a quote and we'll be happy to talk through your requirements for a price within your budget.